The North East Coastal Monitoring Programme covers approximately 300km of coastline from the Scottish Border to Flamborough Head.
This is sometimes referred to as 'Coastal Sediment Cell 1' in England and Wales.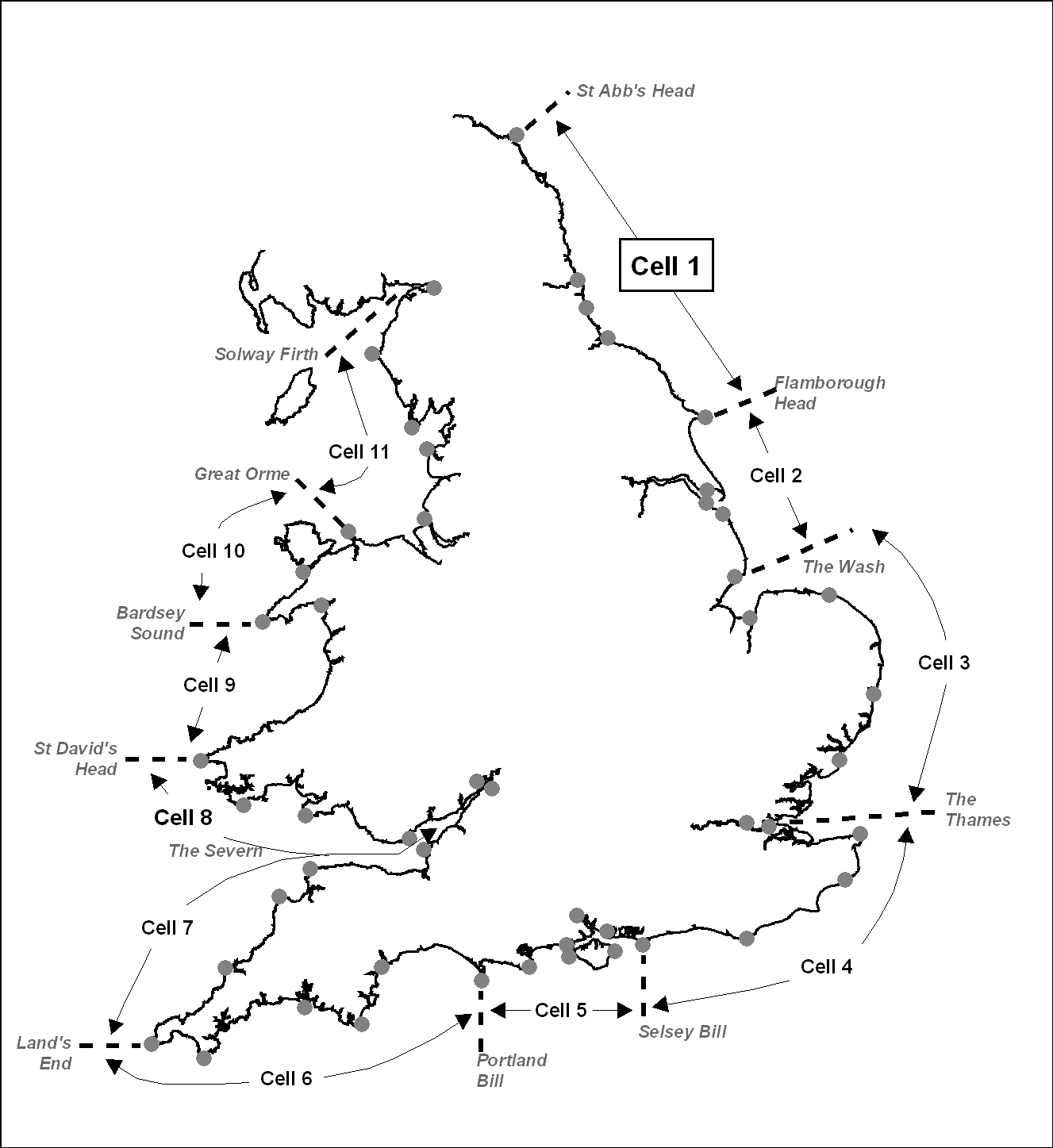 Within this frontage the coastal landforms vary considerably, comprising low-lying tidal flats with fringing salt marshes, hard rock cliffs that are mantled with glacial till to varying thicknesses, softer rock cliffs, and extensive landslide complexes.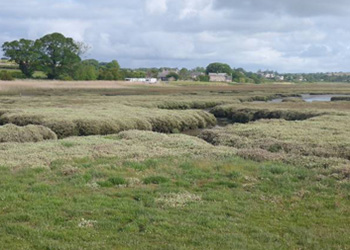 Coastal saltmarsh (Northumberland)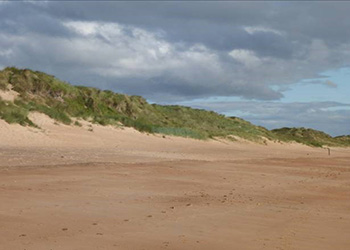 Coastal sand dunes (Northumberland)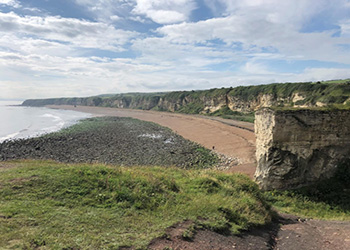 Colliery spoil beaches (County Durham)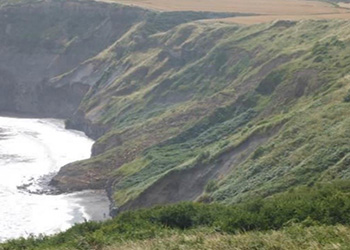 Landsliding soft cliffs (North Yorkshire)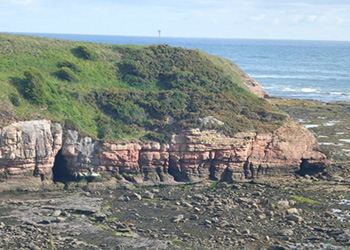 Limestone sea cliffs (Berwickshire)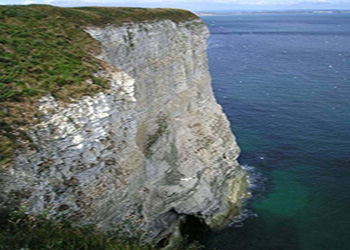 Chalk sea cliffs (East Yorkshire)
Coastal landforms within Cell 1
There are also many different forms of coastal defence, including: offshore breakwaters; revetments; sea walls; harbour piers; quay walls, as well as different management activities, such as: beach recharge and sediment recycling; dune management; and adaptation to coastal change (e.g. abandonment and re-wilding, roll-back of coastal footpaths, etc.). Some areas in Northumberland and through much of County Durham have been significantly affected by historic tipping of colliery spoil, leading to 'artificial' spoil beaches and cliffs.

Scarborough Spa Coastal Slope Stabilisation, North Yorkshire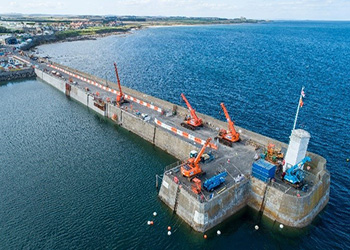 Seahouses Main Piers, Northumberland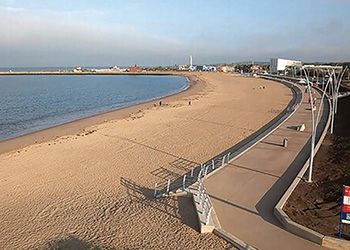 Littlehaven Promeande & Seawall, South Tyneside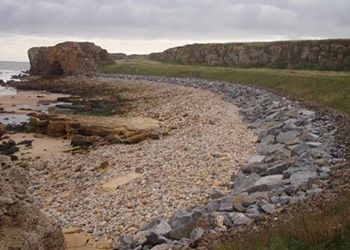 Trow Quarry, South Tyneside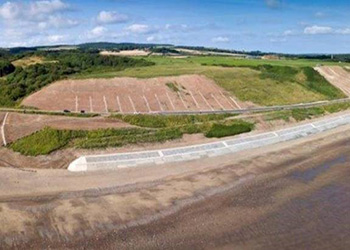 Sandsend Road, North Yorkshire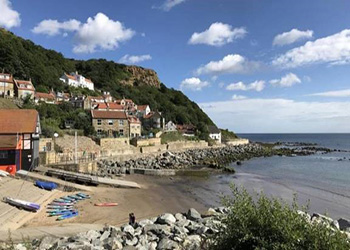 Runswick Bay, North Yorkshire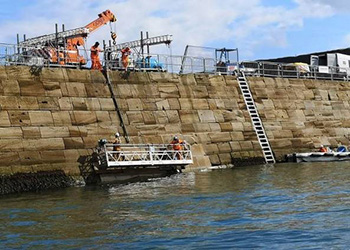 Whitby Harbour Piers, North Yorkshire
Coastal defences within Cell 1
The North East Coastal Monitoring Programme forms a regional component of the National Network of Regional Coastal Monitoring Programmes in England, within which there is a consistent approach to the quality of data captured and stored.
For further information about the National Network of Regional Coastal Monitoring Programmes in England click here.
The North East Coastal Monitoring Programme commenced in its present form in September 2008 and is managed by North Yorkshire Council on behalf of the North East Coastal Group. Prior to 2008, coastal monitoring was undertaken on a consistent basis across Northumberland and North Tyneside as part of the (then) Northumbrian Coastal Authorities Group's monitoring programme which commenced in 2002, whilst several authorities elsewhere within Cell 1 undertook their own local monitoring programmes.
The present co-ordinated programme is funded by the Environment Agency, working in partnership with the eight maritime local authorities in the region (Northumberland County Council, North Tyneside Council, South Tyneside Council, Sunderland City Council, Durham County Council, Hartlepool Borough Council, Redcar & Cleveland Borough Council and North Yorkshire Council), as well as other relevant bodies such as the Northumberland Area of Outstanding Natural Beauty Partnership, Durham Heritage Trust, North York Moors National Park, Natural England, the National Trust and local Port & Harbour Authorities.
The main elements of the North East Coastal Monitoring Programme are:
beach profile surveys;
beach topographic surveys;
cliff-top recession surveys;
real-time telemetered wave and tidal level data collection;
bathymetric and sea bed characterisation surveys;
vertical and oblique aerial photography;
Light Detection and Range (LiDAR) surveys;
ecological habitat mapping; and
walk-over visual inspection surveys of built defences and natural assets
The beach profile surveys, topographic surveys and cliff top recession surveys are undertaken as a Full Measures survey in autumn/early winter every year with some surveys being repeated the following spring as part of a Partial Measures survey.
The wave and tidal level data collection is from three buoys (Newbiggin, Whitby and Scarborough) and undertaken continuously.
The bathymetry and sea bed characterisation surveys are undertaken in coordination with other planned surveys on an infrequent basis.
The aerial photography and LiDAR surveys are undertaken every 2 years, with data additionally being used for ecological habitat mapping.
The walkover visual inspections of natural features and built defences are undertaken every 2 years.
The overall intent of the regional coastal monitoring is to provide a comprehensive integrated suite of information, complimented by expert observational information provided by the walk-over visual inspections on the ground. Key aspects of the programme are the need for sound quality assurance of data and the ongoing collation, storage and use of this major resource. All data and routine interpretative reports for the programme are available on this project website.
Beach profile survey using hand-held GPS (image courtesy Academy Geomatics)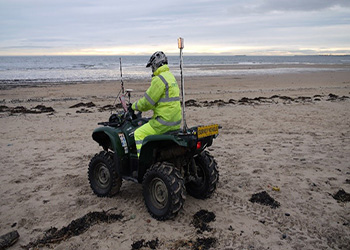 Beach topographic survey using quad-bike mounted GPS (image courtesy Academy Geomatics)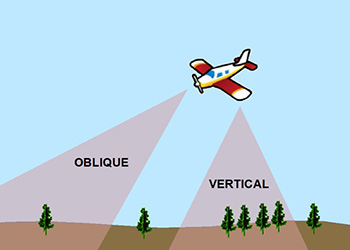 Vertical and oblique aerial photography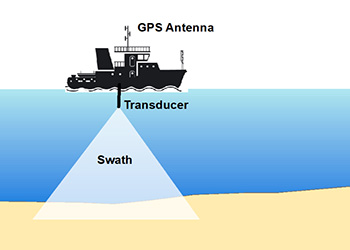 Multi-Beam Echo Sounder Bathymetric Survey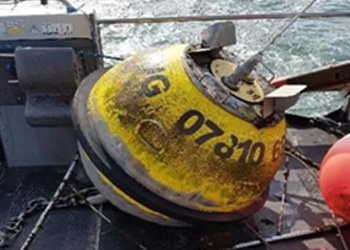 Wave Buoy (image courtesy Fugro)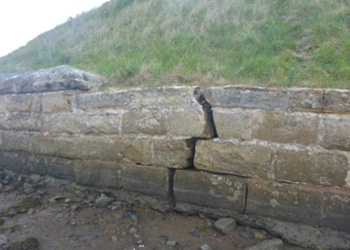 Walkover Inspections (highlighting asset condition)
Survey types forming the Cell 1 monitoring