Programme Detail
The North East Coastal Monitoring Programme covers the coastline from the Scottish Border to Flamborough Head.
This is sometimes referred to as 'Coastal Sediment Cell 1' in England and Wales.
Within the programme, there are three main components:
Cell-wide Regional Framework and Activities
Strategic Monitoring: Scottish Border to River Tyne
Strategic Monitoring: River Tyne to Flamborough Head
Cell 1 Regional Framework and Activities
This part of the programme provides an overarching framework within which the two strategic programmes are set. This ensures a general consistency of approach to data collection (e.g. standard specifications), data management (e.g. metadata documentation), and data analysis (e.g. annual cell-wide overview reporting).
This also provides the basis for cost-effectively undertaking those activities which extend across the whole of Coastal Sediment Cell 1, such as aerial photography and wave data collection and analysis, and website development and maintenance.
This aspect of the programme comprises:
Real-time wave data collection offshore from Whitby, Newbiggin Ness and Scarborough
Aerial photography (flown Spring 2010, Spring 2012, Autumn 2014 and planned for Spring 2017 and 2019)
Data management and website updates (ongoing)
Cell 1 Overview Reporting (annual)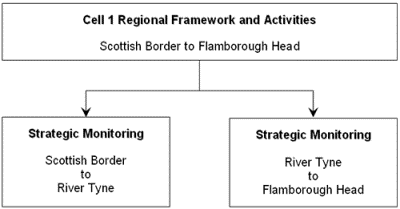 Strategic Monitoring: Scottish Border to River Tyne
Although the North East Coastal Monitoring Programme started in its present guise in September 2008, strategic monitoring along the coastline between the Scottish Border and the River Tyne has been in place since April 2002. This programme has been fine-tuned over the years and comprises:
Full Measures survey of 96 beach profile lines in autumn of each year
Partial Measures survey of 39 beach profile lines in spring of each year
Topographic surveys along Holy Island causeway in autumn each year
Topographic surveys along Alnmouth Beach in spring and autumn each year
Cliff top surveys at Newbiggin Bay Caravan Park in spring and autumn each year
Cliff top surveys at Sandy Bay Caravan Park in spring and autumn each year
Analytical Report (annually, winter)
Update Report (annually, spring)
Walk-over surveys of coastal defences, cliffs, dunes and beaches (every 2 years)
Inspection Report and update of National Flood and Coastal Defence Database (every 2 years)
Strategic Monitoring: River Tyne to Flamborough Head
Full Measures survey comprising beach profiles, topographic surveys and cliff top surveys in autumn of each year
Partial Measures survey comprising beach profiles, topographic surveys and cliff top surveys in autumn of each year
Analytical Report (annually, winter)
Update Report (annually, spring)
Bathymetric and sea bed characterisations surveys (undertaken in 2010 and 2015 and surveys scheduled for 2017, 2018 and 2019)
Walk-over surveys of coastal defences, cliffs, dunes and beaches (every 2 years)
Inspection Reports and update of National Flood and Coastal Defence Database (every 2 years)